Review: Bulletprufe Denim
Replacing Stuff Sucks
There are two types of gear buying scenarios for me. One's a lot of fun and the other one sucks.
When something new and awesome comes out, it's fun to throw some cash at it and play with a new toy. I had a BD ATC Guide which was a perfectly fine belay device, but then the Mammut Smart Alpine came out and it did all sorts of cool new stuff - like assisted braking. All of a sudden I could take photos on rappel by just flipping a few loops of rope around my leg as a backup - the actual weight was carried by the assisted braking feature of the belay device. AWESOME. I like getting something new when I buy some gear.
What I HATE is buying gear to replace something that just wore out. My inReach just died on me. I'm going to have to spend a pile of money to replace something and I'm not even getting any cool new features out of it. That blows. It feels like wasted money.
One of the worst culprits for this - the wasted money replacement - is pants. I don't know why, but I just destroy pants. All pants. I'm lucky if I get two seasons out of a hard shell. My current alpine climbing pants are riddled with holes and have a blown zipper. My last set of ice climbing pants lasted literally one weekend before they were getting replaced at MEC. Each one results in either annoying warranty claims or blowing cash with seemingly nothing to show for it.
So, given my frustrating history with pants, I was understandably intrigued when Bulletprufe Denim sent me a pair of their pants to test out.
Bulletprufe Promises
Bulletprufe makes some bold claims - they promise pants that look like a pretty normal set of jeans, but can be put to work doing everything from climbing to mountain biking while offering 10x the durability of your usual pants, abrasion resistance, breathability and enough stretch to let you move pretty unencumbered.
The company is also sort of neat and maybe this biases my take on the pants. You see, I like small companies and Bulletprufe is small. The company was started by a guy name Will. Turns out Will shares something in common with me. He was fed up with destroying pants; but while I just whine and complain, Will went and found some material he thought would hold up, then had a local seamstress make him some pants. They worked out well enough that he figured he'd start selling them. If you email Bulletprufe a question, Will answers. If you give them a call, it's Will who answers the phone. One dude, selling one product that he actually believes in. I like that.
Anyway, when a slim fit pair of oxblood red Bulletprufe's showed up, I figured I should put them to work.
Bulletprufe makes big claims so I wanted to give them a big test. Achilles Spire seemed like a pretty good way to test out a pair of pants that claim to be able to do it all. A short slog of an approach, 12 pitches of climbing, some scrambling midway up the route and then retrace your footsteps to the car.
So, what did I learn.
First up, let's address what these pants aren't. They aren't alpine pants. They aren't water proof and they're half cotton so they're going to hold onto fair bit of water compared to a set of full synthetic pants, but less than your cotton cragging pants.
On my day on Achilles with perfect weather, they were great. They stood up to the abrasive limestone without any of the scuffs that pretty quickly appeared on my Patagonia Venga Rock Pants recently. The range of motion in my slim-fit set was plenty for the 5.8 route, but if you're looking at taking them for some serious, high-step intensive cragging, you'd be well served getting the 'adventure' fit for a bit more mobility.
Shortly after climbing Achilles, I found myself down in Ten Sleep, Wyoming camping on the lawn of the Ten Sleep Brewing Company after climbing during the day. The slim fit pants I had just didn't have enough mobility for the climbing we were doing (should have gotten the adventure fit), but for lounging around camp in the evening they were great and the pants look normal enough that I didn't feel like a total knob hanging out at the brewery at the end of the day.
The last 'test' I put them through, if you can call it that - is probably the hardest. I've been wearing them for everyday life. A normal set of pants lasts me maybe six months before I blow a hole in them from cycling. Now, I'll report back if they don't hold up, but so far after about two months of commuting to work on my bike, brewery tours on my bike and generally ripping around town (you guessed it, on my bike), the material isn't thinning anywhere.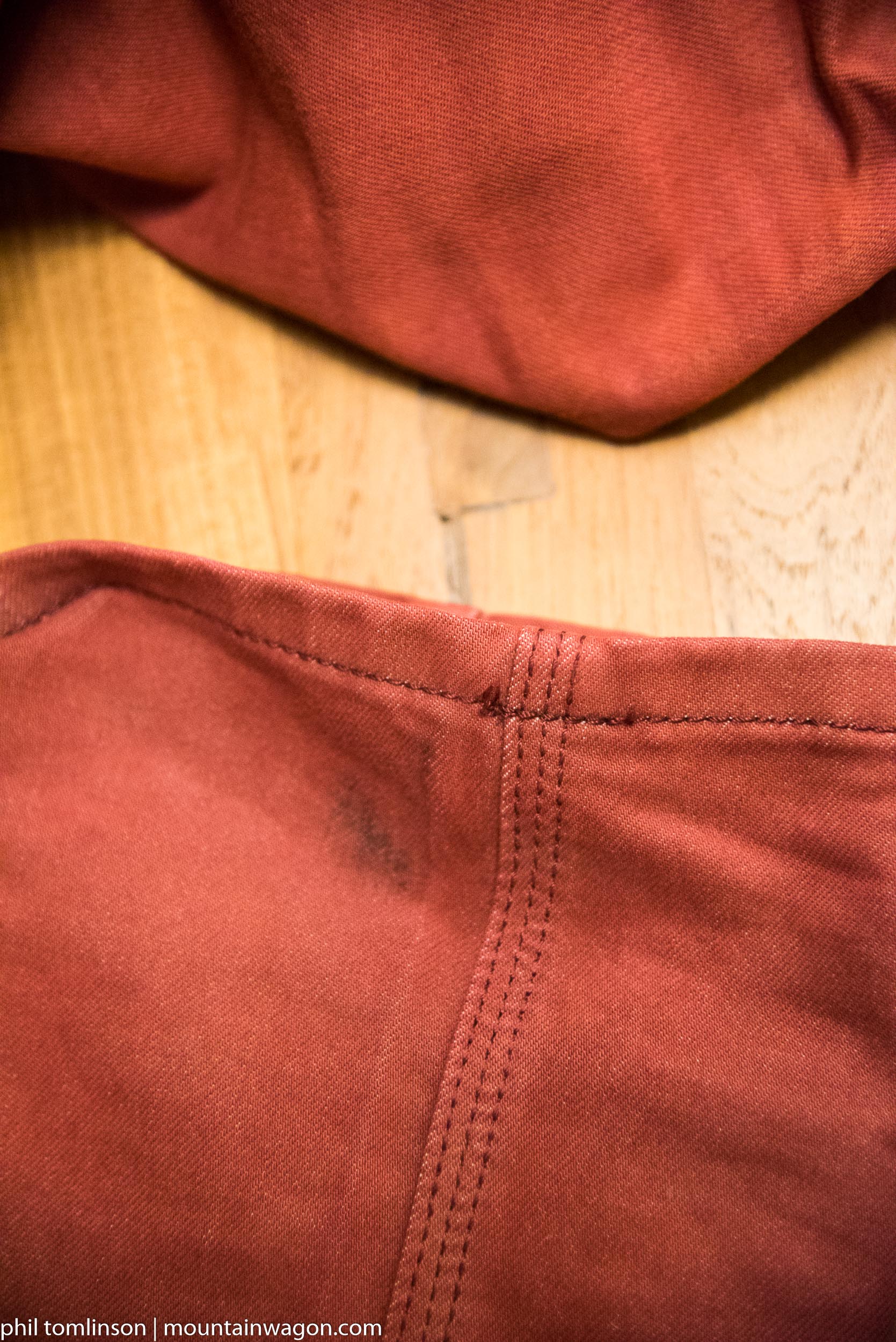 and nothing but a hint of chain grease - triple stitching and burly material holding up great
In fact, the only real issue I've had is a bit of a throw back. The dye bleeds. I haven't had clothing bleed in ages so I'm sort of a 'zero laundry sorting' kind of guy and the result of that tactic with these pants is that I have a lot of pink socks all of a sudden. Luckily a quick email to Will got me some advice on how to set the colour - but attempting to set the dye also caused them to fade a fair bit so they're no longer the vibrant colour they were when new. I think it's worth a heads up that you're going to want to wash these separately at first if you like white socks and that at least with the oxblood colour, you should expect some fading during at first.
The Bottom Line
What Bulletprufe is offering isn't a technical alpine pant. What they are is a jack of all trades pant for every day life and semi-technical activities promising durability and mobility in a package that's decent enough looking that you can wear them to the pub.
After putting those claims to the test, they've proven themselves a great pair of pants. If you want maximum mobility for climbing, get the adventure fit, and if you want to keep your pant leg out of your chain, go with the slim fit. They've become my go-to pants for everything from day hikes to bike missions around town.
I'm optimistic that these won't wear out and need a rage inducing replacement any time soon.
MountainWagon rating: Burly enough to just about any fair-weather adventure - including trips to the pub.
Phil Tomlinson
Grumpy, cantankerous, wildly opinionated and so much more! Getting really tired on skis is what makes me happy.