A Totally Unfair Review of the Arc'teryx Incendo Hoody
The Quest
I'm on a quest. That quest is to stop faffing with layers once and for all. I want layers so breathable I don't need to take them off while skinning or climbing uphill no matter how hard I'm pushing and then have them still keep me warm on the way back down. This quest is leading me to try some weird stuff.
The key to minimal time spent messing around with layers is to maximize breathability while maintaining adequate weather protection. My go to jacket - and one I have been super, super happy with is the Patagonia Houdini - crazy light, good breathability, it keeps the wind out and even shrugs off a bit of light rain. But I still find myself wishing it was just a bit more breathable.
Running, climbing, skiing, it's been through a lot
Arc'teryx makes an analogue of the Patagonia Houdini - the Squamish Hoody. Probably two thirds of my friends have a Squamish Hoody and every single one of them loves it. It's an incredible piece of kit for the same reasons the Houdini is. But I want MORE breathable.
Arc'teryx has been diving into the running scene head first over the last few years and trail running gear tends to focus more on breathability than absolute weather protection, so I found myself eyeballing some of the Dead Bird People's running kit and wondering - could this be the answer to eliminating layering faff?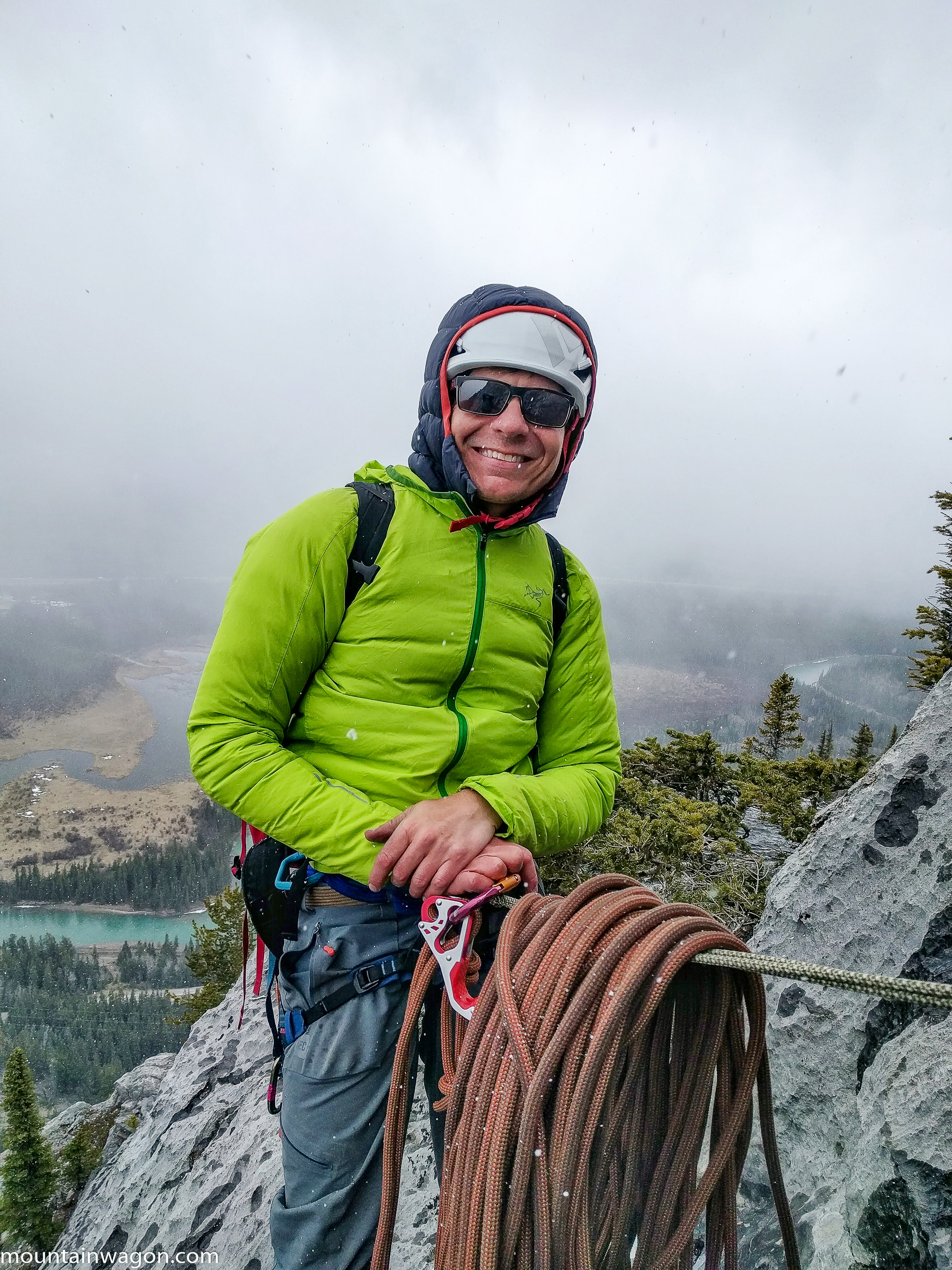 Works just fine in a light blizzard
Though the breathability isn't exactly critical at that point...
So, when it was time to retire the Houdini, instead of getting another one of those or to get a Squamish Hoody, I got the Arc'teryx Incendo Hoody.
Today, with the Incendo, I'm going to be completely unfair and see how the Arc'teryx Incendo - a lightweight running jacket - compares to my trusty Patagonia Houdini during hard mountain use.
Specs
The Arc'teryx Incendo in a men's medium weighs a reasonable 136.2g on the Mountain Wagon Gear-Weight-O-Meter. That's decently light until you look at my Patagonia Houdini which weighs 105.1g which means it drops nearly a quarter of the Incendo's weight. Now - full disclosure, while almost everything I review is size small, the Incendo I have here is a medium. This was one of the only jackets I've tried where a size small just wouldn't work.
The cuffs are the same half-elasticized-half-not that we saw on the Outdoor Research Helium II, but Arc'teryx takes it to another level, the way the cuffs lie is just perfect - I promise you won't miss velcro. The Houdini has the same design of cuffs, but they aren't quite as perfectly contoured - they won't bother you, but they aren't unnoticeable.
Arc'teryx talks about their "composite construction" with much pride, but in reality all it means is that they put mesh under the arms for breathability. Don't get me wrong, it's a great feature and one of the reasons I wanted to look at this jacket as an alternative to the Houdini, but I don't know that it deserves it's own buzzword.
There are a number of reflective panels and logos, and the helmet compatible hood (on a running jacket?) is well shaped but has no draw cords at all. The Houdini lacks the reflective bits, but gains a draw cord for the hood.
Pockets. The Patagonia Houdini has a chest pocket that doubles as a stuff sack and nothing else. The Incendo has a super awkwardly placed 'media player' pocket right on the hem that does stuff sack duty. The result is a zipper right in the hip belt zone and depending on your body could be a deal breaker right there. Even as a running jacket this location sucks because it's hard to access and bounces all over the place. Oh, and that is the Incendo's only pocket. Single chest pocket is the way to go.
Performance
The mesh panels in the Arc'teryx Incendo are awesome. They are big enough to dump heat and moisture during a run but tucked away enough to protect you from wind at your belay stance on a climb. This is not like pit zips that collapse closed when you unzip them (especially if wearing a pack which is basically always). They are permanently open and don't get choked shut by your pack.
In a full-on, end-of-the-world style weather event, you'll want a full shell, but in everything up to medium blizzards, the mesh never bothered me and it was awesome for keeping me cool while moving. When stopped at a belay stance, or pausing on the skin track, your arms drop to your sides and seal the mesh up pretty effectively - they really only dump heat and moisture when your arms are moving. Super well done and combined with the super breathable face fabric makes this an awesome tool for maximum effort pushes where you still need wind protection.
The Houdini is quite breathable, it just doesn't breathe like the Incendo; during hard pushes, the breathability just can't keep up if I've over-layered underneath in anticipation of staying warm at a belay stance or skiing back down.
The Houdini has a great fit and I say that as someone that doesn't normally fit Patagonia very well. Arc'teryx normally does fit me well and the Incendo is just awkward - the small is damn near skin tight and the medium, which I tested, is just too big. Sort of a bummer, but maybe the sizing will work out better for you.
The Incendo has a wind flap for the zipper which seems like a pretty interesting decision on a jacket with big mesh panels. It's not much, but I would rather ditch it and save the weight.
The Patagonia Houdini's hood is a bit small if your giant head requires a giant helmet, but the Incendo's hood isn't adjustable and seems to catch the wind any time there's more than a stiff breeze. The Incendo's hood is too big to not have any adjustment - when running (you know, what it was actually designed for - the hood tends to blow off my head which totally defeats the purpose - it actually works better with a helmet. The Patagonia Houdini at least has a drawcord, but a bit more of a brim would be nice on both hoods. Both jackets would seriously benefit from poaching OR's design on the Helium II.
When it comes to durability, the Houdini is the winner. Despite it's super light weight, the face fabric is quite abrasion resistant. I've abused mine for years and it while it's stained, it's free of holes despite everything I've put it through. When climbing sharp Rockies limestone, I found the material of the Incendo snagging. After a couple of months of use I have a couple of small snags in the material - nothing even worth patching, but if you like your gear looking like new, taking the running jacket mountaineering might not be the best idea.
The Bottom Line
The Arc'teryx Incendo isn't a mountaineering jacket. That said, I've climbed and skied in it a bunch and I think it actually does a great job. I wish the face fabric was the same as the Squamish Hoody, but I understand that I'm complaining that a running jacket doesn't have the durability of a mountaineering wind shell. Like I said, this is a totally unfair review.
Ultimately though, I love how breathable the Incendo is. It's so breathable that as long as my layers underneath are breathable enough - I'm approaching that nexus where I don't overheat to the point of getting wet on the way up and on the way down I'm warm enough to not freeze. For climbing - I've basically found a system that means I don't have to mess around with layers in most conditions and for ski touring, I'm only tossing on a puffy when I stop for a prolonged period - as long as my layers underneath are picked properly, I don't need to strip down or layer up while moving.
The only real downside to the Incendo as a mountaineering layer is that the face fabric isn't quite as abrasion resistant as I would like and the hood doesn't have a drawcord. Fix those two problems and you've got the perfect aerobic mountain shell. Or someone could just add pit vents to any other windshell out there - that would probably accomplish the same thing.
If you aren't a weirdo on a breathability quest - go get an Arc'teryx Squamish Hoody or a Patagonia Houdini - but if you're trying to eliminate messing around with layers - maybe it's worth taking the Arc'teryx out of its comfort zone.
Mountain Wagon Rating: Surprisingly great for things it's not designed for.
Phil Tomlinson
Grumpy, cantankerous, wildly opinionated and so much more! Getting really tired on skis is what makes me happy.