New Year's GNAR at the Discovery Hut
The Discover Cabin in Wells Gray Park might just be the perfect backcountry hut.
Bold statement. Let me try and back it up.
The Discovery Cabin sleeps 8-12 people depending on how cozy you want to be. We were there with 10 and it seemed like a pretty perfect number. Propane heat, LED lights, mattresses with duvets and pillows, fully equipped kitchen with an oven that actually works – what the hell else could you want? A sauna? Well, it's got one of those too.
The flip side, is that this isn't a luxury lodge – no plumbing, mattresses on the floor, and there's mice in the walls of the sauna.
It's not super expensive (about $60/night/person), it's got everything you need to be comfortable, but not much in the way of luxuries. Access in is by helicopter (about $1000/load) and you can either fly out or ski out (though it's a bit of a slog).
Like I said, pretty much perfect as far as I'm concerned. You see, I like comfortable, but luxury means expensive and if a trip gets expensive, that means I can't afford to do another trip for a while. I like doing a lot of trips.
Of course a great hut doesn't mean anything if the skiing is shit. Luckily, it ain't.
Planning
There's a group of us who do a ski trip every year for New Year's. The general format is one of us books a hut that looks interesting and we fill it with whomever wants to come. I've done this four years in a row now with the core group of Matt, Charlie, Reb, Kyle and Brad. Not everyone makes it every year and some years, like this year, we have some extra spots we fill with a few more people. I'm pretty lucky to be a part of a great group like this.
This year, Kyle booked us the Discovery Cabin months in advance at which point we figured out who was coming and then promptly forgot about the whole thing until just a few days before. Realizing we were only days away from flying into a remote hut, there was a panic of figuring out food, how many heli flights we were going to need, and pouring over topo maps trying to figure out the ski terrain.
The Trip
To access the hut, we were flying out of the Yellowhead Helicopters base just south of Clearwater. Before we even left the hotel we'd stayed in the night before, we got an email from Ian, the hut operator, letting us know that the weather was too socked in to fly, so instead of rushing to the heli base, we stuffed our faces at a diner while we waited for a weather window. A couple of hours of twiddling our thumbs later, the clouds cleared enough that the pilot figured he could give it a shot.
With a party of 10 we needed three flights. The first two flights we flew up groups of three with as much gear as we could fit so that the final flight with four people wouldn't be overloaded.
Once up at the hut we basically just flung our gear through the front door, split into two groups and then charged up Discovery Hill for a quick lap.
The party before us had only skied a few South facing slopes as the weather had been super cold. This was awesome news for us because a) we don't really mind the cold and b) the entire area was almost completely un-tracked. I don't think I crossed a single track laid down by the previous party the entire time we were there.
Our first morning at the hut we woke up to about 10cm of fresh snow. Combined with the weather that had delayed our departure the day before, we had probably 30-40cm of fresh powder on top of a well consolidated base. Doesn't get much better than that – we had the stability to ski just about anything as long as we kept an eye on our sluff.
The Discovery Cabin sits in a basin that has skiing possibilities on three sides. To the North, you have the Table Mountain area, to the East there's Discovery Hill, and to the South there's the Discovery Ridge and Moul Peak areas.
Reb, Brad, and I teamed up with Colin and Kim and immediately headed South as it appeared to offer the widest variety of aspects with steeper lines. We started off on Discovery Ridge skiing back towards the hut. I was totally fucking underwhelmed. The line we skied was short, the snow was decent but not great, and the skiing was borderline boring –no trees, no pillows, just a low-angle planar face.
I was seriously worried this was going to be a boring-ass trip.
We toured back to the top of the ridge and decided to try a group of lines off the back-side that Ian's map calls 'Sunny Side Up'. The line started off with mellow turns through Christmas trees, but instantly, we could tell there was a difference to the character of the snow – the powder was way deeper and the transition to the consolidated layer was way more progressive. The mellow turns lead to something magical – steep trees – my favourite. Far from the mellow, boring lines of the front side of Discovery Ridge, now we were shredding steep, tight trees as our sluff cascaded down around us. I was in heaven.
The following day, Reb, Brad, and I wanted to range a little farther out. We'd seen some epic looking skiing across the valley from Sunny Side Up so we decided to go for a bit of a slog to check it out. We knew it was close to the Trophy Hut, but we hadn't seen anyone over there, so figured no-one would mind us poaching their lines.
We figured it was worth a little up front energy to lay in a skin track that would let us get back there later with less effort. The lines we found near the Trophy Hut were long, fun, and varied. Everything from steep, tree-less gullies to steep trees and pillow lines. If you're at the Discovery Hut – it's worth wandering over there (I don't have a clue what the name of the area is, I've just labelled it Trophy Zone on the map).
I guess we managed to suffer through...
That evening, while we stuffed our faces and slept, it puked snow. When we woke up in the morning, there was another 20cm of fresh snow surrounding the hut.
We pretty much scrambled out the door and Reb, Brad, and I started heading back for the Trophy Zone. Half way there, after dropping down Sunny Side Up, we decided that given the incredible new snow, maybe we'd stick closer to the hut so that we could get more laps in. We re-tracked out Sunny Side Up with a few laps before moving over to South Moul which lies just across of Eagle Pass.
The skiing in South Moul is more mellow than Sunny Side Up, but it offers super cruise-y lines and had similarly awesome snow. The only real issue was wind transport meant there was only unconsolidated snow over top of some rocks which made for a shit-load of sharks waiting to bite you. We definitely added some gouges to our bases, but that's sort of the reality of early season skiing.
Up near the ridge tops the slopes were pretty wind loaded so we handled those areas pretty conservatively. One line in particular we were a little iffy about so I laid in a ski cut and sure enough the slope pulled behind me. It's reassuring when you call the slope that's going to pull.
At least we expected it to pull...
We closed out the day with a mellow tour back to the hut enjoying an incredible sunset.
Each evening, a pair of people were on dinner duty. They'd prepare a three course meal for the whole group and another two people would be on dishes duty. This way, out of the six nights at the hut, each person cooked once, cleaned once, and had four unfettered nights off to drink beer and play Bananagrams with the rest of the group. It's a pretty great way to do things on longer hut trips.
and countless rounds of Bananagrams
The rest of the trip followed the same pattern. We'd wake up, split into smaller groups and then take off for various destinations. Reb, Brad, and I managed to talk Kyle into joining us for another day over in the Trophy Zone and we put in a day long enough that we got up well after dark.
The day after that was New Year's Day, and Brad, Reb, and I teamed up with Matt and Charlie Breakey to go try and summit Moul Peak. We failed utterly (the ridge we attempted required full-on mountaineering kit which we didn't have with us) and settled for more laps in the South Moul area.
Luckily, when your consolation prize is super nice and cruise-y runs, it's hard to feel too hard done by.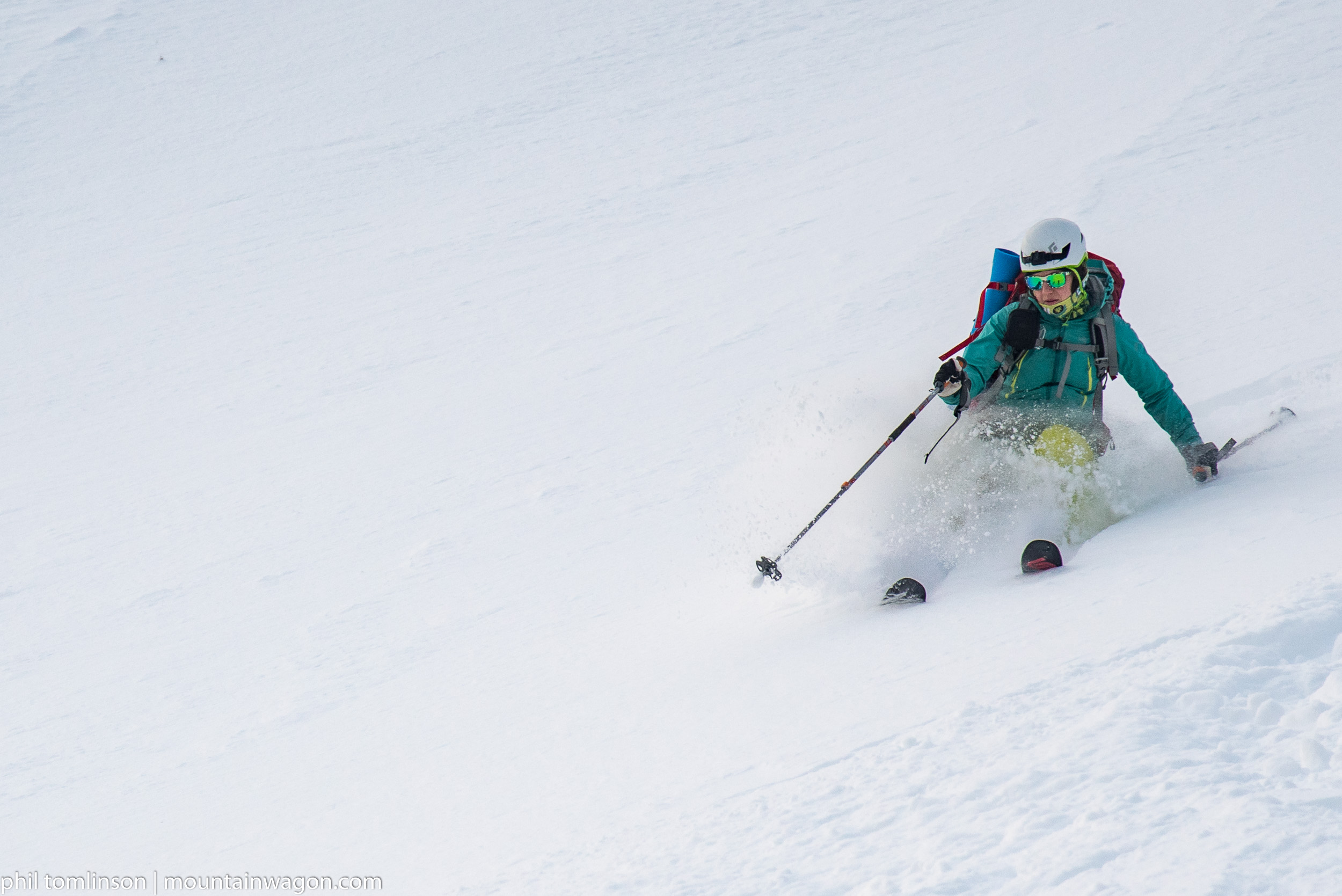 She's got the best darn glasses around
He needs mirrored glasses to hide that glare
Eventually, we ran out of days at the hut. We had planned on having most of us skiing out, but tired from a week of skiing, the idea of skiing 15km out from the hut and then driving 8 hours back to Calgary was a bit much. I doubt I would have survived the drive home if I'd tried to get that all done in one day. So we took the coward's way out, slapped down a credit card and jumped into the heli and all flew out. At least this time we had fantastic views in the air.
The Discovery Cabin is a fantastic hut. It's well priced for what it offers, it is comfortable without being excessive and it's got some super nice skiing around the hut.
The terrain has a tendency towards mellow and conversely cliffy. As a rule, if you can't see your line over a roll, stop, make sure you're not about to launch off a cliff, because mellow lines into cliff bands is the name of the game out here. That said, if you spend a little time with a topo map, you'll find enough steep lines to keep things interesting and there's skiing on all aspects so pretty much no matter what the weather throws at you, you'll find something to ride.
Go, shred, rejoice.
I may not know where we're headed next year, but I know the trip will happen, I know we'll head somewhere awesome, and I know I'm going to have a killer, killer time.
Phil Tomlinson
Grumpy, cantankerous, wildly opinionated and so much more! Getting really tired on skis is what makes me happy.