Go to Ten Sleep, Wyoming. Right. Now.
Whatever you're doing right now, stop it. Just stop. Stop reading this. Well, finish this paragraph, and then stop. Go, call/email/yell at your boss and let them know you're going on vacation. You're going to the tiny and ridiculous town of Ten Sleep and you're going climbing. I promise you, going to Ten Sleep right frickin now is more important than whatever boring job and life responsibilities you have.
Two weeks ago, I'd never heard of Ten Sleep. I had vacation to figuratively burn and since pretty much all of Canada is literally burning down right now, the smoke makes Canadian destinations dodgy at best. Searching for ideas, Marie recommended Ten Sleep. Despite being exactly the kind of climbing I like least (cragging, steep, hard) I was drawn in by one simple fact. You can sleep at the local brewery.
Location
Okay, let's back up. Where the fuck is Ten Sleep? Wyoming. It's that brick shaped state south of Montana. It's also not exactly close to my home base of Calgary, Canada. It's 1150km or about a 12-13 hour haul if you want to do crazy stuff like stop for gas.
So yea, it's probably not where you're going for the weekend.
That's why I told you to talk to your boss. You need a fair bit of time to explore Ten Sleep.
Why Ten Sleep?
So why are you going to Ten Sleep? Well, I wasn't exactly sold on it either before I got there. Me? I like long 5.fun multi-pitch routes with an alpine flavour and Ten Sleep is none of those. For anyone who knows me, let this ring in your ears: Ten Sleep made me actually like cragging. Ho. Lee. Shit. How the hell did that happen?
The answer is that Ten Sleeps climbing is just ridiculously fun. The rock is limestone, but for much of it, instead of the slab we find out here, it's steep and features distinctive horizontal bands of pockets - so it's steep, but juggy. But it's also weird.
The first route I climbed found me jamming up a crack, laybacking a flake, stemming in a corner, smearing up slab and pulling jugs. I used basically every trick I knew getting up one damn pitch. From there, the climbing just got more fun. Think giant arching column called the Cobra that involves overhanging jugs and stemming off opposing walls.
On top of being fun, the routes we climbed were super well bolted, didn't have any epic run outs and the grading wasn't mega sand-bagged. In fact it was basically spot on compared to modern routes in the Bow Valley.
Now, I know what you're thinking right now - 'But Phil! I like cragging and there's great stuff all over the place! Just because you liked the climbing down there isn't reason enough to drive over twelve hours each way!'.
So Really, Why Ten Sleep?
So it takes more than just super fun climbing to make a destination worth an seriously long road trip. Here's what really sets Ten Sleep apart.
The Guide Book
Even if you never go to Ten Sleep because you hate fun or something, do yourself a favour and get a copy of the guide book. This is the standard by which all other guidebooks will be measured. What Aaron Huey has done here is create a love letter to the canyon he helped develop. I don't know what I preferred more - climbing the routes or reading their descriptions.
Now, a warning: there's two versions of the guide book. The first, is called Holy Ten Sleep: Electric Koolaide 3-D Acid Test. It IS a bible. The cover is gold embossed leather. It has a satin bookmark, it comes with retro 3D glasses for viewing the 3D pictures that litter the book. It features a sexy lady rating scale, history about the area and great access descriptions and every page is glossy colour.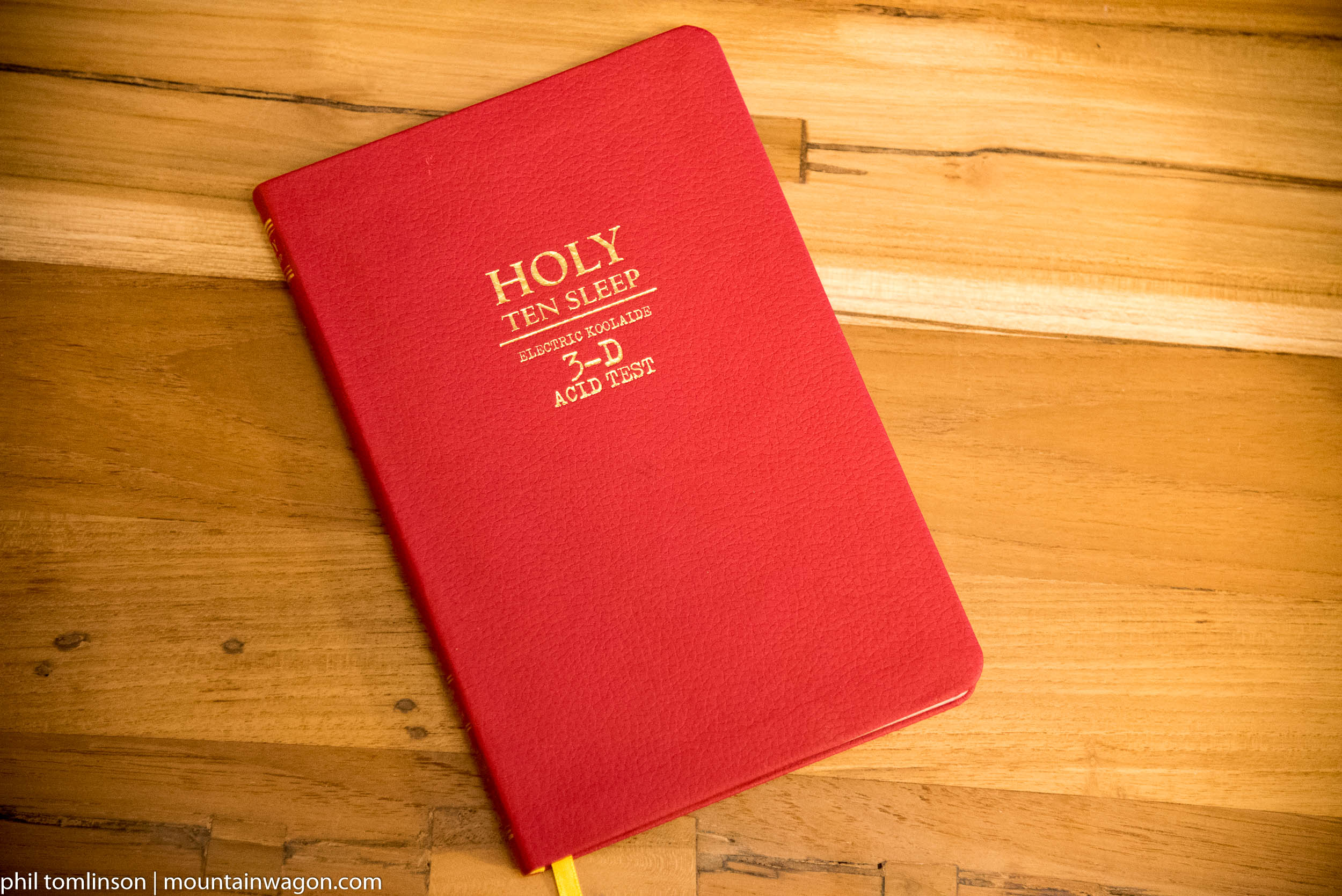 The Sacred (expensive, out of print) Text. The Torah of Ten Sleep.
The problem is that it turns out that 3D, leather, gold embossing and glossy colour don't come cheap. It's seriously expensive. Like, $100USD. Ouch.
BUT, there's a second version. It's called the $25 Punk Rock, Dirt Bag, PBR Drinking, Van Living, Scab Picking, Gypsy Trash, Xerox Making, Ramen Eating Guide to Ten Sleep Canyon. If Holy Ten Sleep is Huey's love letter to the Canyon he developed, then the Punk Rock edition is his love letter to the community. He makes no money off the Punk Rock book - all profit is split between the Bighorn Climber's Coalition and whatever local store you bought it from (you can only get it from local shops in Ten Sleep).
The goods. At a fraction the price. But without 3D goodness.
The Punk Rock edition ditches most of the colour pages, the 3D stuff and the leather extravagances, but all of the actual route content is there in it's unadulterated form.
But there's more than just route descriptions and topos (and it's as good as any guidebook out there). Most guidebooks are, let's be honest, boring as shit. They're a tool. Not so what Aaron Huey has created here.
I'm going to make a bold statement. Even if you never go to Ten Sleep, you should buy this guide book. You will read this thing cover to cover. It is LITTERED with hilarious gold mines, history of the area and just awesome, amazing stuff. It feels like more than a guidebook. It feels like the spirit of Ten Sleep. And you don't need the expensive version to get that.
Here, take a look at a small chunk of the 'Symbology' guide - a feature of every guidebook, it sets the tone for the book:
Or here is a single route description of a route I decided I had to climb, only because of the name and description:
Now, I'm a sentimental kind of guy and I like supporting people who pour their heart and soul into something so awesome, so I went and got both copies. The Holy Ten Sleep is never to be loaned out or shoved in a pack and lives in a shrine on my book case, while the Punk Rock book is what actually comes to the crag.
So yea, crazy, hilarious guidebook. But that's the thing, it PERFECTLY represents my brief introduction to this magical, magical place. The routes ARE crazy and hilarious. They're also hard, skewing to the 'out of Phil's pay grade by a lot' end of things, but there's enough out there for anyone who can climb 5.9 an amazing few days and if you climb harder than that? Holy shit, you may never leave.
Now, epic guide book plus awesome climbing is great and all - but still is it worth 1150km?
Ten Sleep Brewing Company
The town of Ten Sleep is tiny. There's a general store, a gas station and a couple of bars. Oh, and about a kilometer and a half out of town there's the Ten Sleep Brewing Company. Located in an old barn, you walk through the brewery itself to get to the tasting room where you can get beer, the Punk Rock guidebook and various other random things.
Beer is three or four bucks for a pint, there ain't much else on the menu. The beer is not only cheap, it's good.
But wait, there's more! You can camp on the front lawn of the brewery, or park your dirtbag-mobile van in their parking lot for a hilariously reasonable $3/night/person. Showers to soak off the grime from a few days climbing are $2 paid honour system into a box. There's an outdoor sink with running water, picnic tables and lights hanging from trees for visibility.
You can head into the brewery and grab a pint (or a growler), then wander out to the picnic tables, beer in hand, to cook dinner on your camp stove.
There's even a super loveable dog that wanders around looking for fetch volunteers.
So not only is it a great brewery, but it's a super reasonably priced and well equipped camp ground that caters almost exclusively to climbers so you can wrap up your day comparing notes on climbs, vans and body odors.
The Ten Sleep Nut Shell
Great cragging, epic guidebook, good beer from a brewery that lets you sleep on their lawn and a town full of some of the friendliest people I've ever met.
Stop what you are doing, call your boss, let them know you're going on vacation and go to Ten Sleep.
Phil Tomlinson
Grumpy, cantankerous, wildly opinionated and so much more! Getting really tired on skis is what makes me happy.